Looking for some plant-based Easter inspiration? I put together over 50 eggcellent vegan Easter recipes that are guaranteed to impress your family and guests.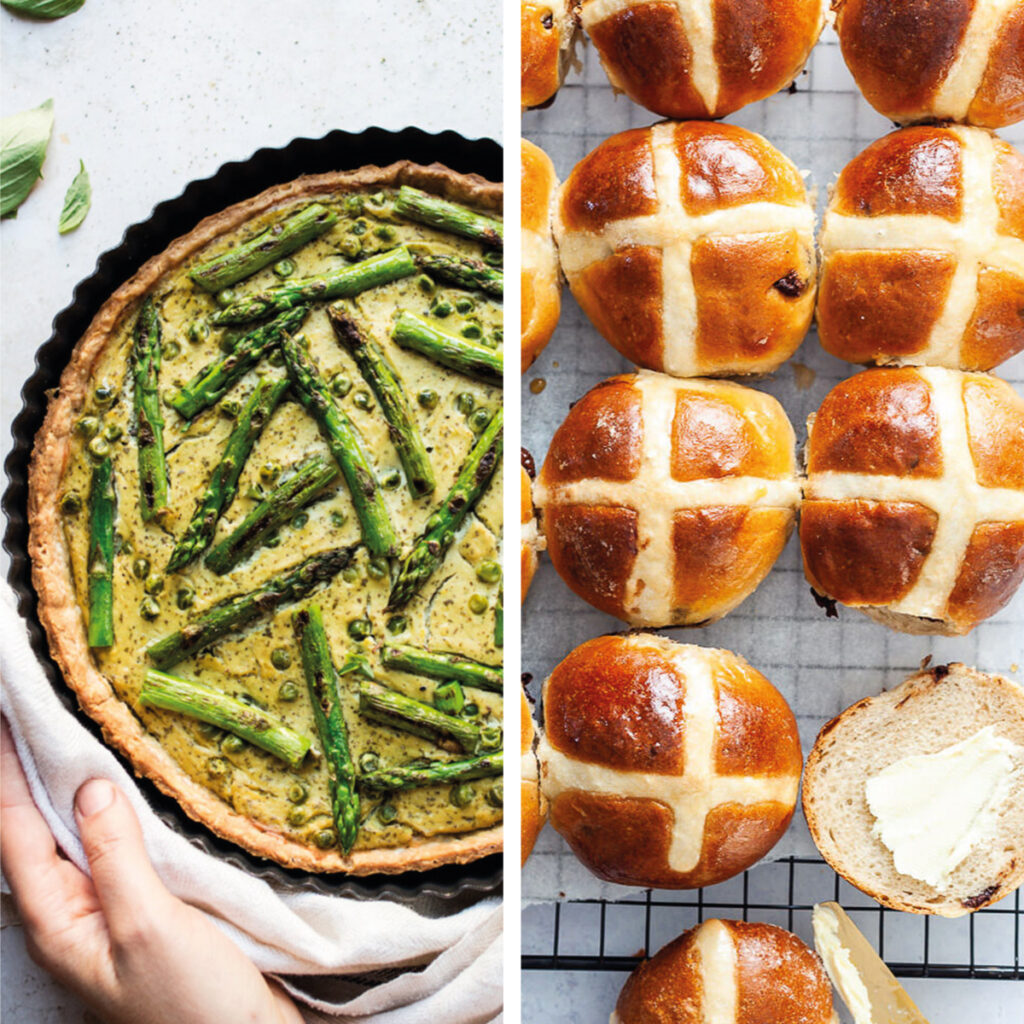 I love Easter! It brings our family together, and cooking feels a bit less stressful than Christmas!
The weather starts to improve, and if it's warm enough, we just opt for a lovely brunch or picnic outside.
Here you'll find inspiring recipes to give you some ideas for your Easter menu!
When I think about Easter, I think about chocolate, desserts, and fresh spring vegetables – light leafy greens, asparagus, peas, carrots…- and "eggs"!
And if you are on a vegan diet, there are plenty of alternatives to real eggs that taste just as good and are much better for your health and the hens!
Ready to start cooking?
Vegan Easter Recipes
Breakfast And Brunch Recipes
Becoming vegan doesn't mean losing out on flavor and taste. All these vegan recipes just look and taste amazing and will make your Easter brunch delicious.
Vegan Easter Appetizers
From quick bites to creamy soups, here you will find the best plant-based recipes to start your Easter dinner!
Vegan Easter Mains For Your Easter Dinner
Here are some ideas for your Easter table centerpiece: from creamy gnocchi to flavorful quiche to fresh pasta recipes.
Whether you are opting for an Easter lunch or you are after some stunning dinner ideas for your vegan Easter dinner menu, here you'll find something for everyone.
Sides & Salads
Here you'll find refreshing salads and roasted vegetables filled with Spring produce. Perfect as a side to accompany your main dish or as a light starter.

Vegan Easter Desserts And Treats
Some mouth-watering vegan Easter treats and dessert recipes that the whole family will fall in love with! They include classics like chocolate eggs, carrot cakes, chocolate cakes, plenty of strawberries, and hot cross buns for your Easter feast!
More Holiday Recipes You'll Love
Check out these 50 Healthy Spring Dinner Ideas!
Have you made any of these Vegan Easter recipes? Let me know in the comments!
Did you make this recipe? Tag @gatheringdreams on Instagram. I want to see it!