Some of the links below are affiliate links, so we may receive a commission, at no cost to you, if you make a purchase through a link. Check our disclosure for more info.
FOLLOW THESE SIMPLE STEPS TO START A BLOG AND MAKE MONEY!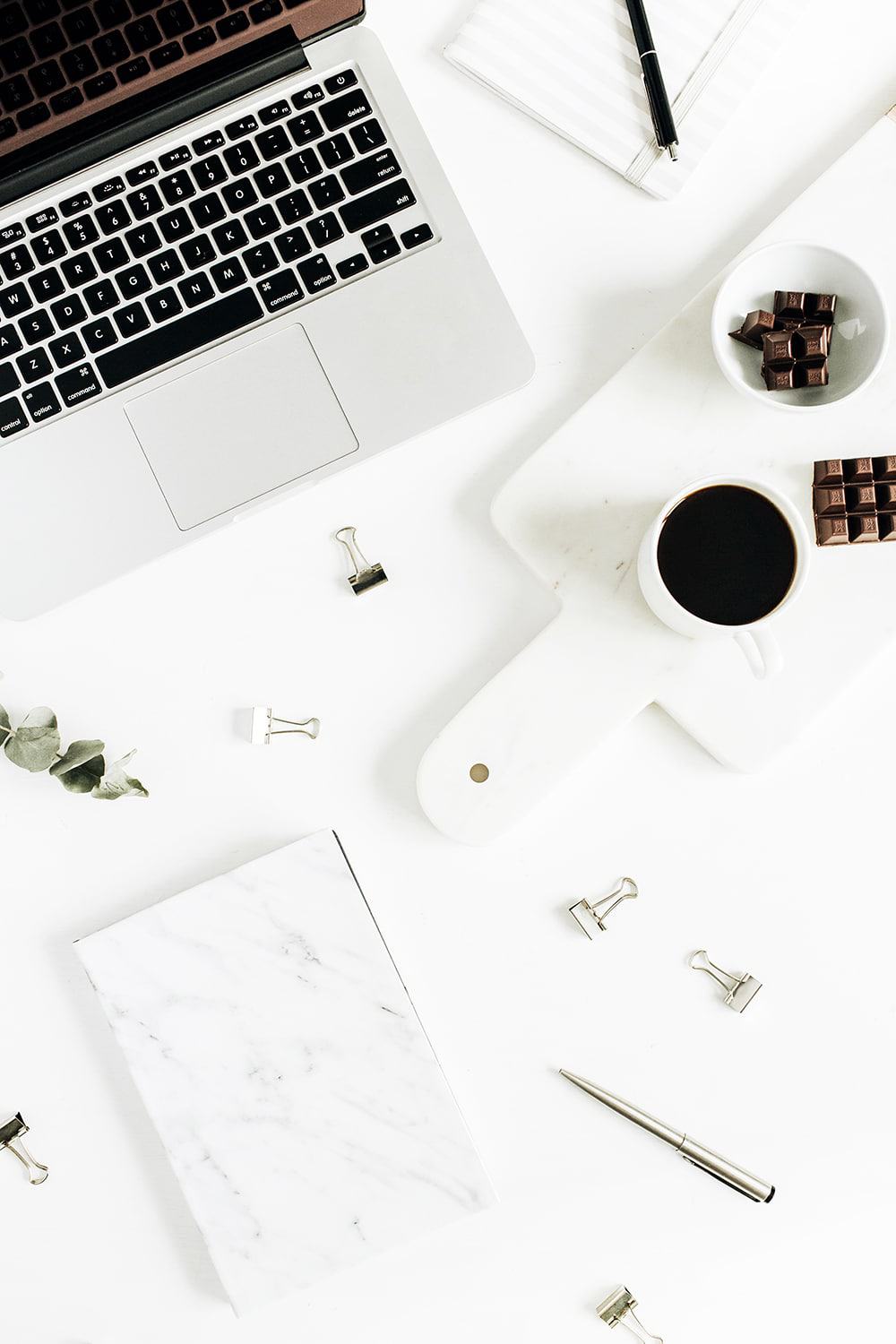 You keep reading everywhere about how easy it is to start a blog and how you can make money blogging.
But how can you create a successful blog if you don't know where to start?
In this guide, I will show you the exact things I did to start my lifestyle blog. Blogging changed my life, I have been able to earn over $3,800 AFTER ONLY 3 MONTHS with NO experience.
By following these simple steps, you will be able to start a blog in no time and set it up the right way to start earning money from day one.
But who am I to tell you how to start a successful blog?
For the past 11 years, I have been working in a very demanding job. I have been lucky enough to work with people I love, but the job itself was very time-consuming. I used to work 12-14 hours a day in a high-stress environment.
I kept dreaming of a stress-free life and being able to do what I loved.
So in the evenings, I started researching online for alternative options. I found many interesting creative ways to make money that could give me more freedom, but what I really wanted was:
Something that would fulfill me and that I could enjoy doing every day
Something that made money and helped me living the life of my dreams
I then realized I spent a lot of time reading blogs, looking at people that are currently living the life I want to live.
Some are able to stay at home and raise their kids away from the corporate world, some are able to travel every day of the year using their savings and investments, and some have created a new life for themselves that allow them to do what they love.
What do they all have in common?
They have a blog!
So I thought: maybe I should start a blog as well! (I started mine on Bluehost). I have a special deal with them where you can get started for just $2.95 a month.
And in November 2017, Gathering Dreams was born!
My goal with my blog was to be able to make $1,000 a month after a year of blogging. If I couldn't do that, I would just quit this blogging business and move on to new adventures.
And this is what happened after 3 months of having my blog online. I made…
And within the first year, I made over $25,000!
I am not going to lie to you:
If you want to build a successful blog that makes money, you will need to put in a lot of hard work.
Starting a blog might take you less than an hour, but building a successful blog that will earn you money will take more time.
But IT IS POSSIBLE to make money blogging, and I will show you how.
Let's get started!
How to Start A Successful Blog and Make Money
1. Pick Your Blog Topic/s
When I started my blog, I kept reading about other bloggers that didn't make a significant income until after one or two years blogging. I knew I needed to build my income much faster than that, as I get easily discouraged and bored if I don't see results from my effort quite quickly.
But I also knew I wanted to write about things I loved.
Do You Need A Niche?
What are you interested in? What are you good at?
Make sure you pick something you have a real interest in, otherwise, you will get tired of your blog very quickly. And during the first few months of blogging, you need to make sure your passion will fuel you.
But: is what you are interested in going to make money?
If you are blogging to make money (and I am sure most of you want to make money…or you wouldn't be reading this!), you need to write about what people want to read.
You need to help people to SOLVE THEIR PROBLEMS.
That's why I think lifestyle blogs are great: you can write about lots of topics, helping people solving problems and test out different niches that you love.
Lifestyle blogs I love:
All these blogs (or online magazines – however you want to call them) focus on solving people's problems (how to make extra money or how to organize your closet) or they write articles about things people are incredibly passionate about (like farmhouse interior design ideas).
Do not write about your life to start with, unless it's about an example that will help others! No one cares about you, other than your mum!
Of course, there are bloggers and influencers out there that make tons of money writing about themselves. But it will take you much longer to build an audience and monetize your blog if you decide to go down this route.

2. Pick A Domain Name
Domain name is just a more complicated way to say website's name.
So you picked your blog topic/s, now you have to decide a name for it. I wish this was easier! But I ended up spending days to come up with my blog name.
My top tips to pick a name are:
Pick a name easy to remember
Make it easy to spell
Keep it short
Pick a name that relates to you and what you want to write about
You will also need to make sure your domain name is available and not registered with another website.
You can check if your domain is available here:
If you are struggling to find the perfect a name, write down lots of words that describe how you feel or what you want your blog to be about. Then try to combine them, use catchy phrases and try to swap words out with your own.
And test out the name you picked with your friends!
I knew my blog was going to help me live my dreams. And then I thought it could be a diary to store all my dreams: so I came up with Gathering Dreams.
Once you have chosen your domain name and checked that it is available, you need to register the right to use it.
TIP:
If you end up
using Bluehost
as your hosting provider (see
Step 4
) you can get a
FREE domain for the first year as long as you buy 12 months worth of web hosting.
3. Choose The Right Platform
So you are here to learn how to start a successful blog. In order to do that, you will need to set up a self-hosted WordPress site.
You are not going to be able to make money from a free blog.
And these are the reasons:
If you use a free service, you WILL NOT own your blog or your website content
You will have limited options to customize your design and you will have limited support
You will have restrictions to put ads on your website to be able to monetize it
Some free platforms will put their own distracting ads on your website
Your blog won't look professional and you might not be able to get approval for some affiliate marketing programs
If you want to make money from your blog, your website will need to be self-hosted on a web server that allows you to be able to customize it.
WordPress.org is the most popular website platform in the world. It's free and extremely flexible and it's what I am using for Gathering Dreams.
4. Buy Hosting For Your Blog
Although WordPress.org is free, you will need to host your files on a server. If you're interested in making money from your blog or turning your blog into a business, then paying for hosting is a MUST.
This option comes at a cost, but you won't be able to add ads to your website if you set up your blog the wrong way.
Reasons Why You Should Use Bluehost
Its' #1 recommended web hosting company by WordPress.org
You get a FREE domain name when you buy a 12-month plan
It's the best affordable hosting for beginners if you are just starting out and you have limited resources to invest in your blog.
You just need to click on the green button Get Started Now to chose your package.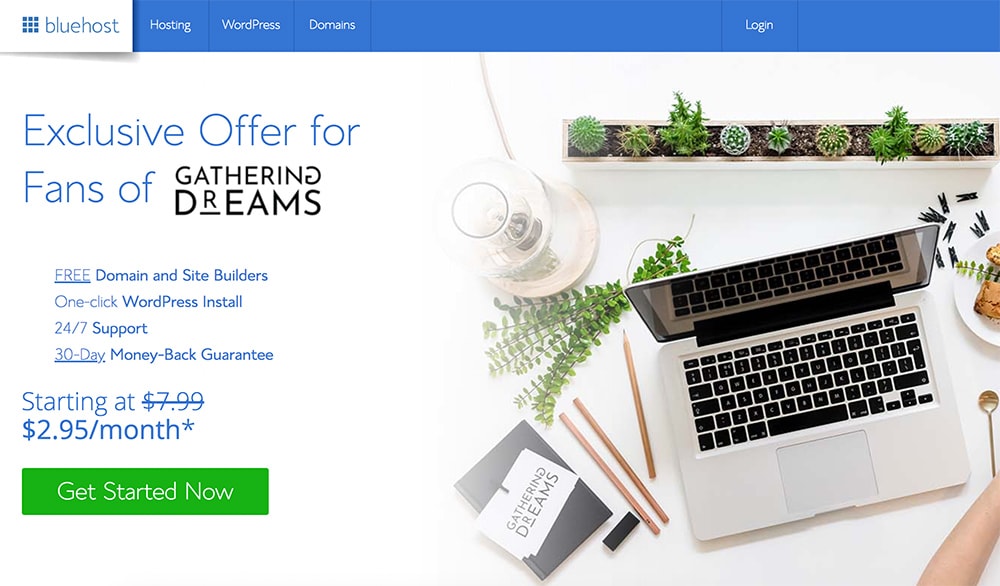 You will be directed to a page where you can select the type of plan you want to purchase. I recommend choosing the Basic plan. It's all you need to get started, and you can always upgrade later if you need to.
The longer your plan is, the cheaper it will be. I strongly suggest you purchase at least a 12-month hosting plan for these reasons:
If you really want to give blogging a shot, you need to commit to it for at least a year. And having to put some money upfront will really make you take this step only when you are ready.
You will receive a FREE domain for the first 12 months, included in the package.
The monthly price will be much cheaper.
If you only purchase a monthly plan, you might forget to renew your plan with the risk of bringing your website down and losing business.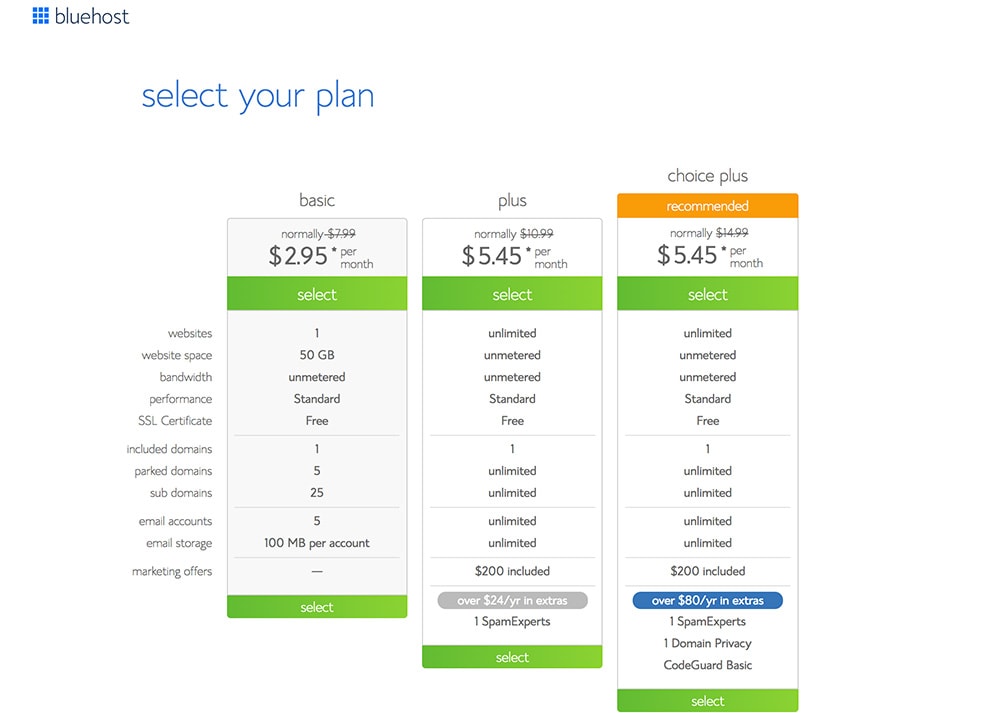 If you want to get the best value for money, I recommend purchasing a 36-month plan. This is what I did when I started Gathering Dreams. It requires a slightly bigger investment up front, but you end up saving quite a lot of money in the long run.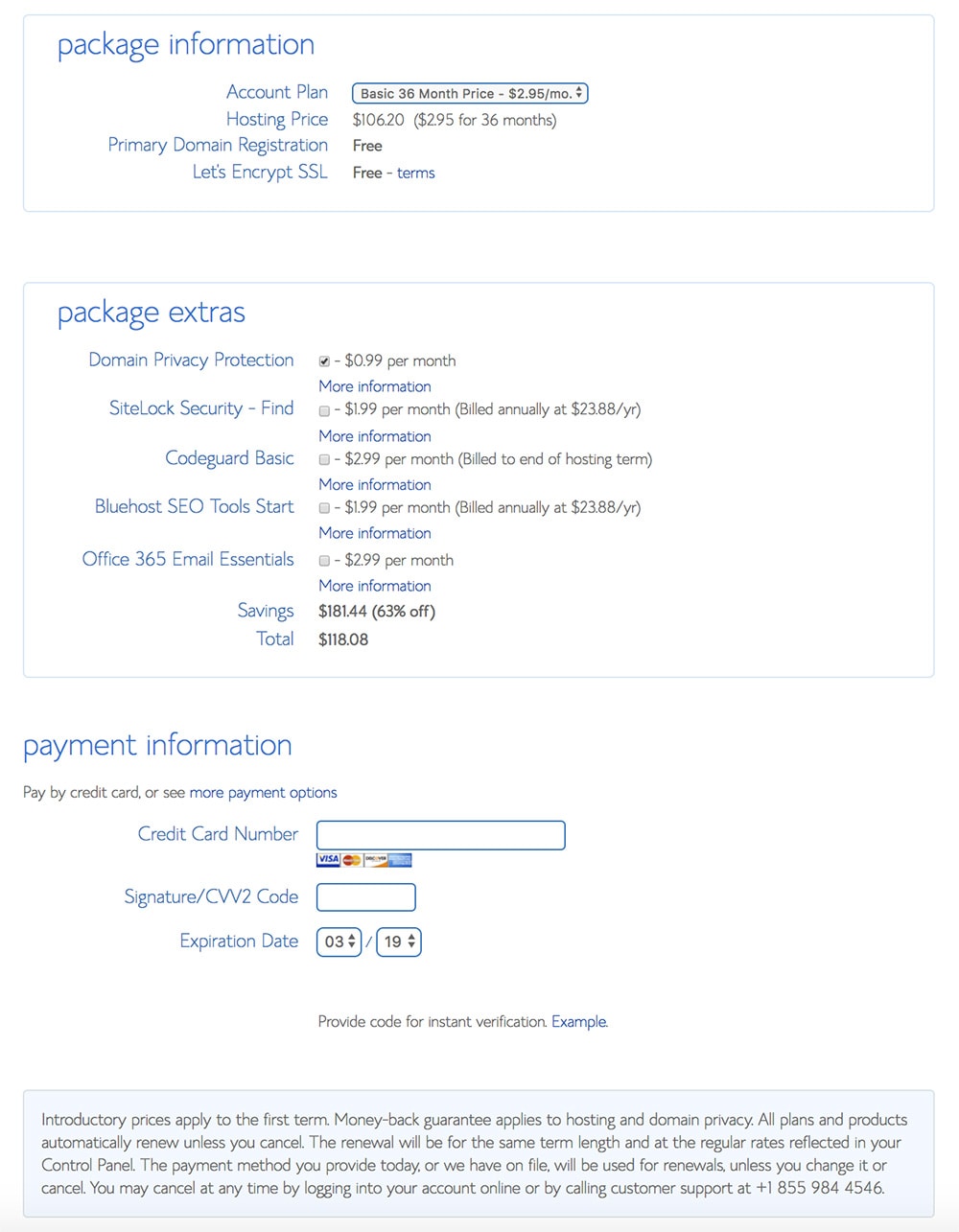 If you want to keep your costs as low as possible, remember to uncheck any of the extra add-ons. I strongly advise paying for "Domain Privacy Protection", which is only $0.99/month to keep your details private.
Already own a domain name?
If you already own a domain name that you bought before from a website like GoDaddy, you will need to connect it to your Bluehost account. Just choose the second option on the page instead of registering a new domain name. You will then have to log in to your domain provider Account Manager page and follow the specific instructions to connect your domain to your Bluehost server.
5. Install WordPress
Bluehost makes it very easy to create a WordPress blog and it's FREE.
Bluehost will now automatically install WordPress for you. All you have to do is choose your password!

If you are unsure about what to do during any step, you can open Live Chat on Bluehost and their technical support will be able to help in no time.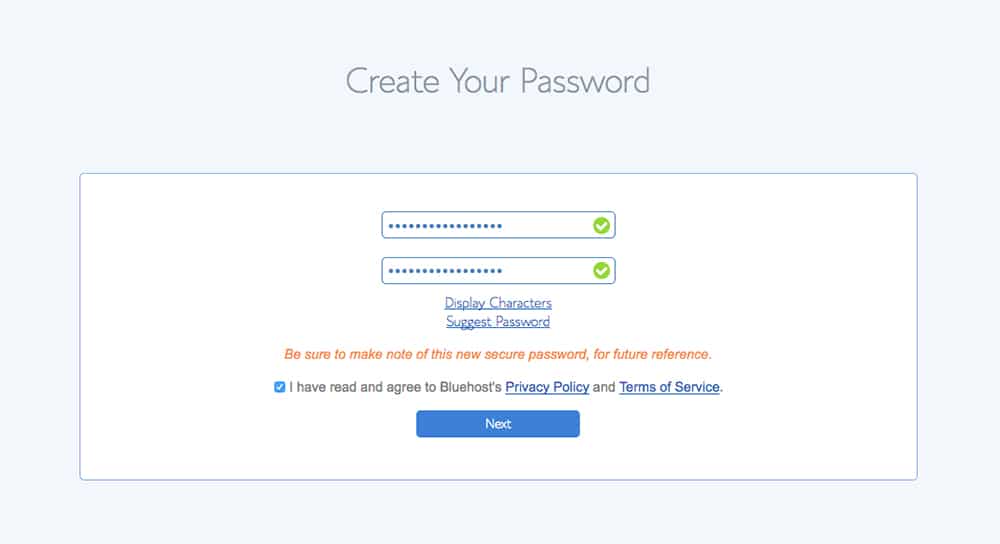 6. Select A Theme
You almost made it!
Now Bluehost will ask you to pick a theme.
What is a theme?
A theme defines how your blog will look. It provides the framework to create the styling of your WordPress site.
Most themes will provide you with:
page layout
colors
font styling
widget locations
navigation menus
There are lots of great free themes available with WordPress here. Just chose one to begin and you can easily change it later.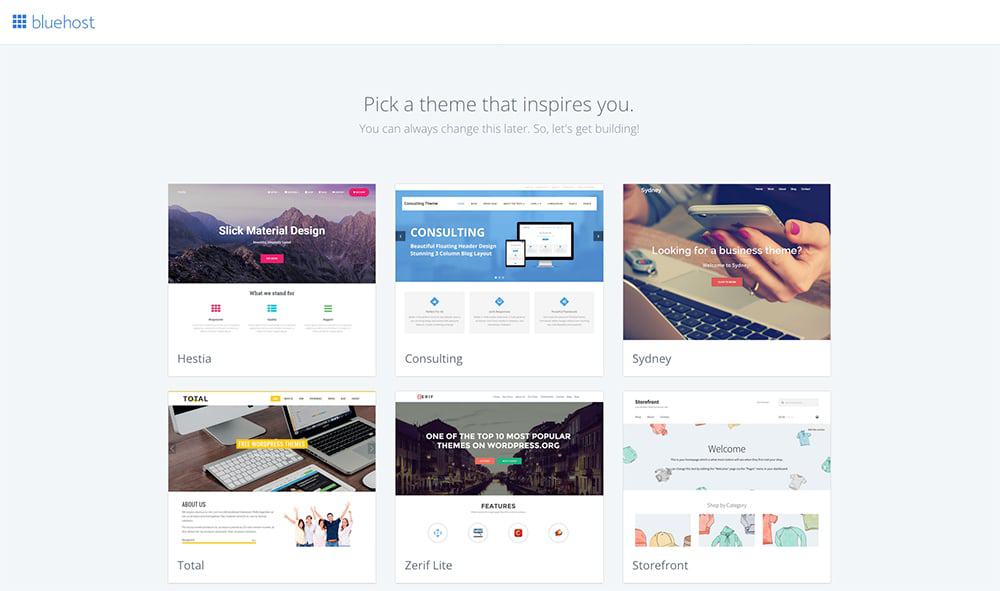 Once you have selected a theme you are all done and ready to go!

Click on Start Building.
On the next screen, you can then choose "Business" or "Personal". Or, you can click the "I don't need help."
CONGRATULATIONS!
YOU HAVE STARTED YOUR OWN SELF-HOSTED WORDPRESS BLOG!
Now, you probably already have a headache from all the button clicking you had to do! But you have just begun your journey!
You can log into your WordPress dashboard and start your own first post!
If you want tips about how to find popular content, you need to read my post
HOW TO MAKE MONEY BLOGGING (IN NO TIME)
. In the post, you will find great tips on how I managed to make over $3K after only 3 months blogging!
The URL for your dashboard should be: yourblogname.com/wp-admin/
And it should look like this:
If you want to upload a different WordPress theme, you'll need to click "Appearance" on the left-hand side of your WordPress dashboard, then select "Themes".
Free themes can be great to start with, but if you are looking to be able to customize your website, or you have a specific look in mind you might want to upgrade to a paid theme.
My favorite theme and the one I am using for Gathering Dreams is called Simply Pro, and it uses the Genesis Framework as its foundation.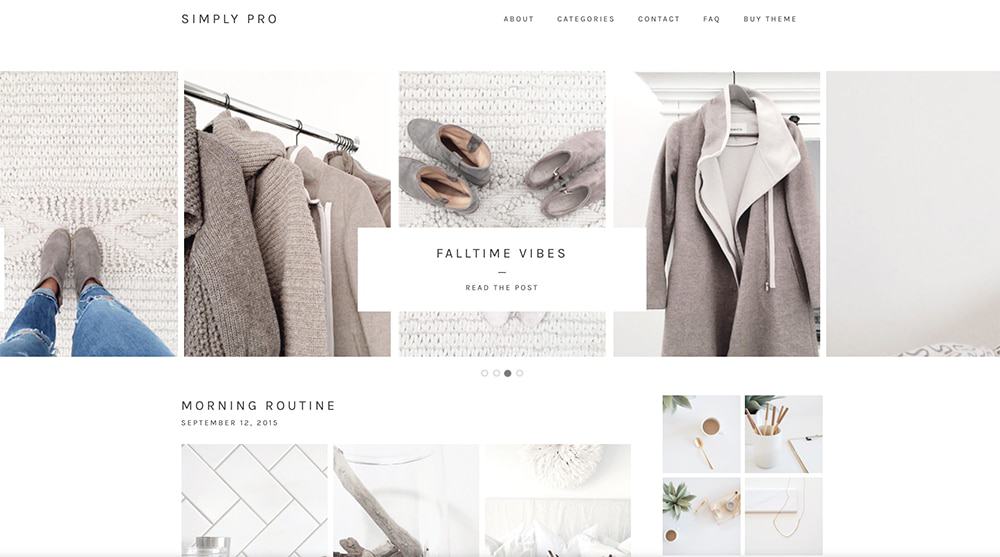 What Is The Genesis Framework?
When I started my blog, I kept reading about the Genesis Framework and it took me a while to understand what it is. And also why I had to pay yet again for something else.
The term WordPress theme framework often refers to a code library that is used to facilitate the development of a theme. Developers normally build their themes around frameworks to speed up their development time and to make sure the basic functionalities of a website are robust and easy to maintain.
The Genesis Framework is one of the best for price/quality and will provide you with a secure and search-engine-optimized foundation for your websites. It comes built-in with features like multiple layouts, high-security, mobile responsive pages, custom page templates and lots of other cool features.
Once your site runs on the Genesis Framework, you can choose from a variety of Genesis Child Themes, which is the design of your blog.
Here are a few of my favorite Genesis WordPress themes: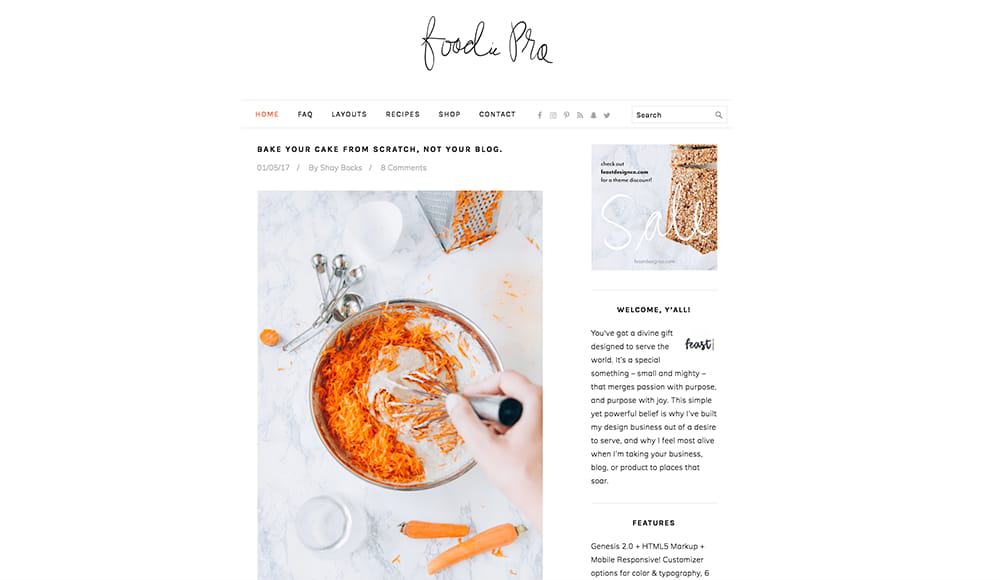 Foodie Pro is the most flexible Genesis theme. It has a sleek and minimal design and plenty of color and typography options. It's a popular choice for top food and lifestyle bloggers.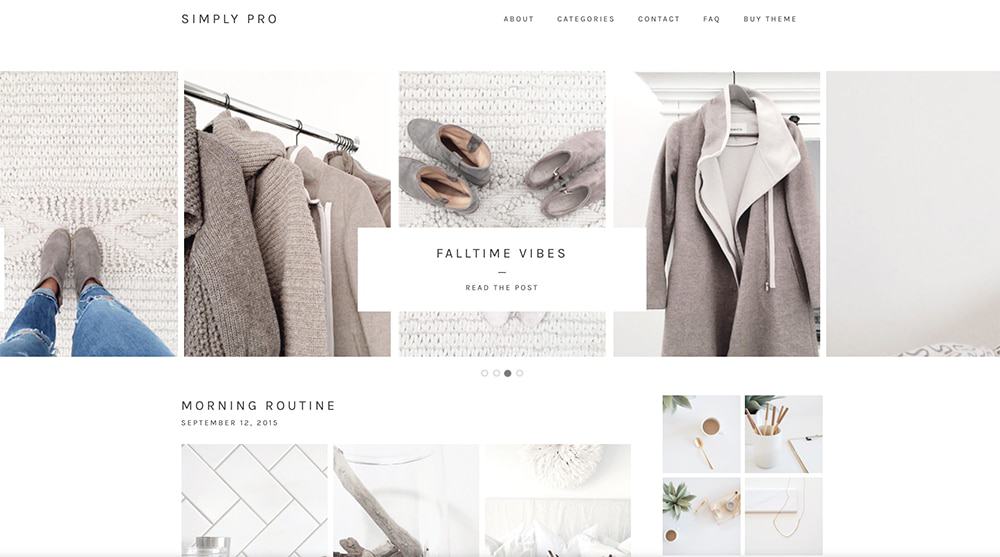 Simply Pro is a very modern theme following the design trends set by the top bloggers. With it's simple, minimal style, your content will look amazing. It's what I decided to use for Gathering Dreams and I couldn't be happier!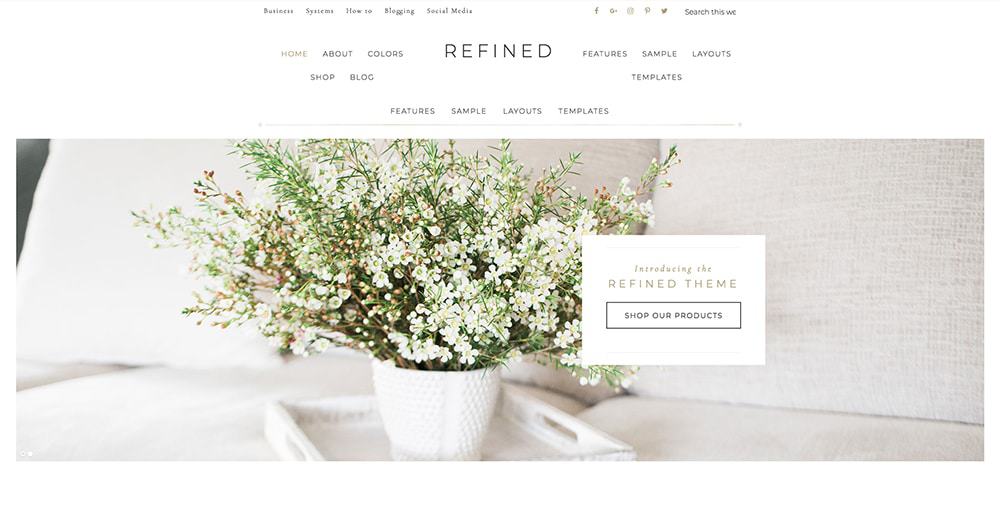 Refined will give you the perfect foundation for your business. It will allow you to showcase your products, you can integrate a shop feature all while maintaining a simple, yet elegant, look.
TIP: I know that when you are going to start, you'll e worried about your logo, your blog design, and many more things! Do not waste too much money by paying someone to create your logo, and don't spend hundreds of dollars on a theme! No one cares about your blog design but you. People will find you and will care mostly about your content and how your post is going to help them. Just make sure your theme is simple and easy to navigate. Once you start to make money, you'll be able to improve your design and make your blog look more beautiful. The most important step is to take action and start!
NOW YOU KNOW HOW TO START A SUCCESSFUL BLOG!
You are at the beginning of a wonderful and rewarding journey. It will take you time, hard work and patience, but by following the right steps you will get there!
I did, and I am sure you can too!
If you have any questions about starting a self-hosted WordPress blog, please leave me a comment or send me a message via the contact page.
I will be more than happy to help you! Blogging helped me living my dreams and I am here to help you to do the same!
I reply to EVERY single email!
If you know someone that wants to start a blog or website, please share this tutorial with them!
---
Check out all the best resources for your blog! I find all these resources so valuable and I am sure they will help you as much as they helped me.