This post may contain affiliate links. Please read our disclosure for more info.
A WARMING AND FILLING SALAD TO DIE FOR!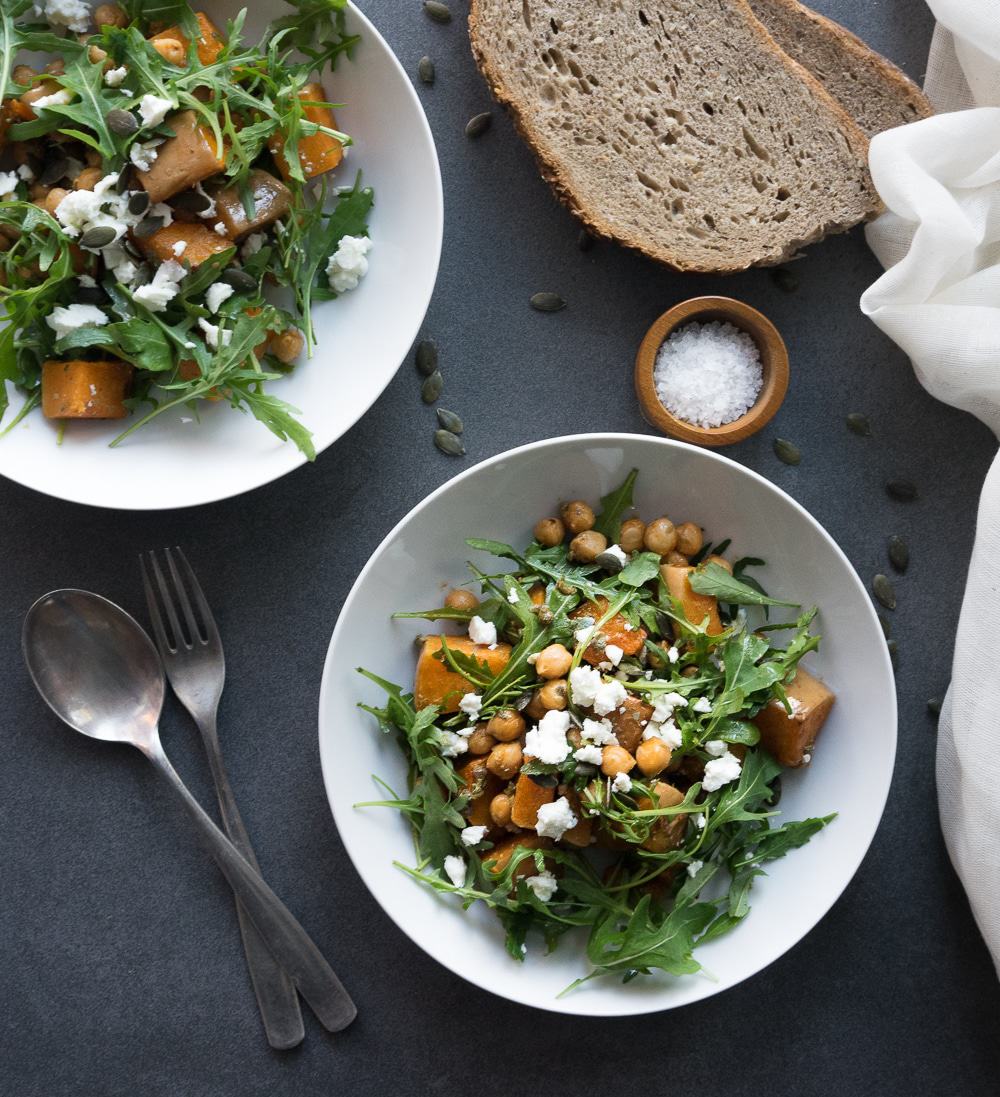 This colourful, warm and delicious roasted butternut squash salad is one of my favourites during the cold winter months.
I love it: it's so healthy! It makes you feel fantastic, but tastes amazing.
The sweetness of the squash with the punchiness of wild rocket are the perfect combination. Pumpkin seeds help with a bit of crunchiness, and capers remind us a bit of the summer just gone. It's a great salad to eat on its own.
I also love adding smoked paprika. It has a warming but palatable heat with a complex depth and it goes amazingly well with the saltiness of crumbled feta.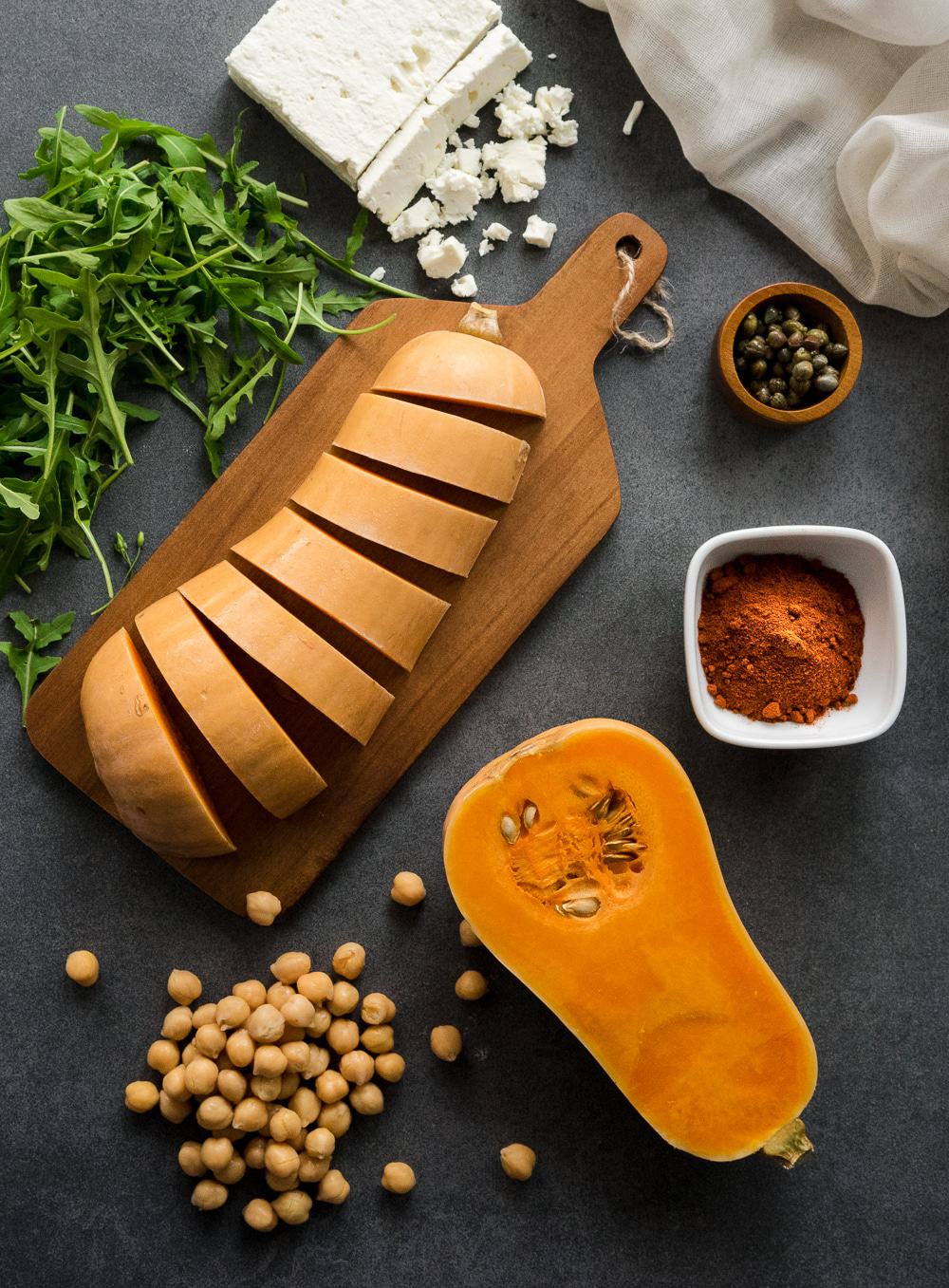 Butternut Squash is an incredible source of beta-carotene which helps to preserve eyesight, and its antioxidant properties help to keep those annoying colds at bay. I love to keep the skin on the butternut squash as I really enjoy the texture when roasted, and it also makes it so much quicker to prepare!
The addition of chickpeas will give this salad a boost of protein and fibre, and will help to fill you up if you eat this salad on its own.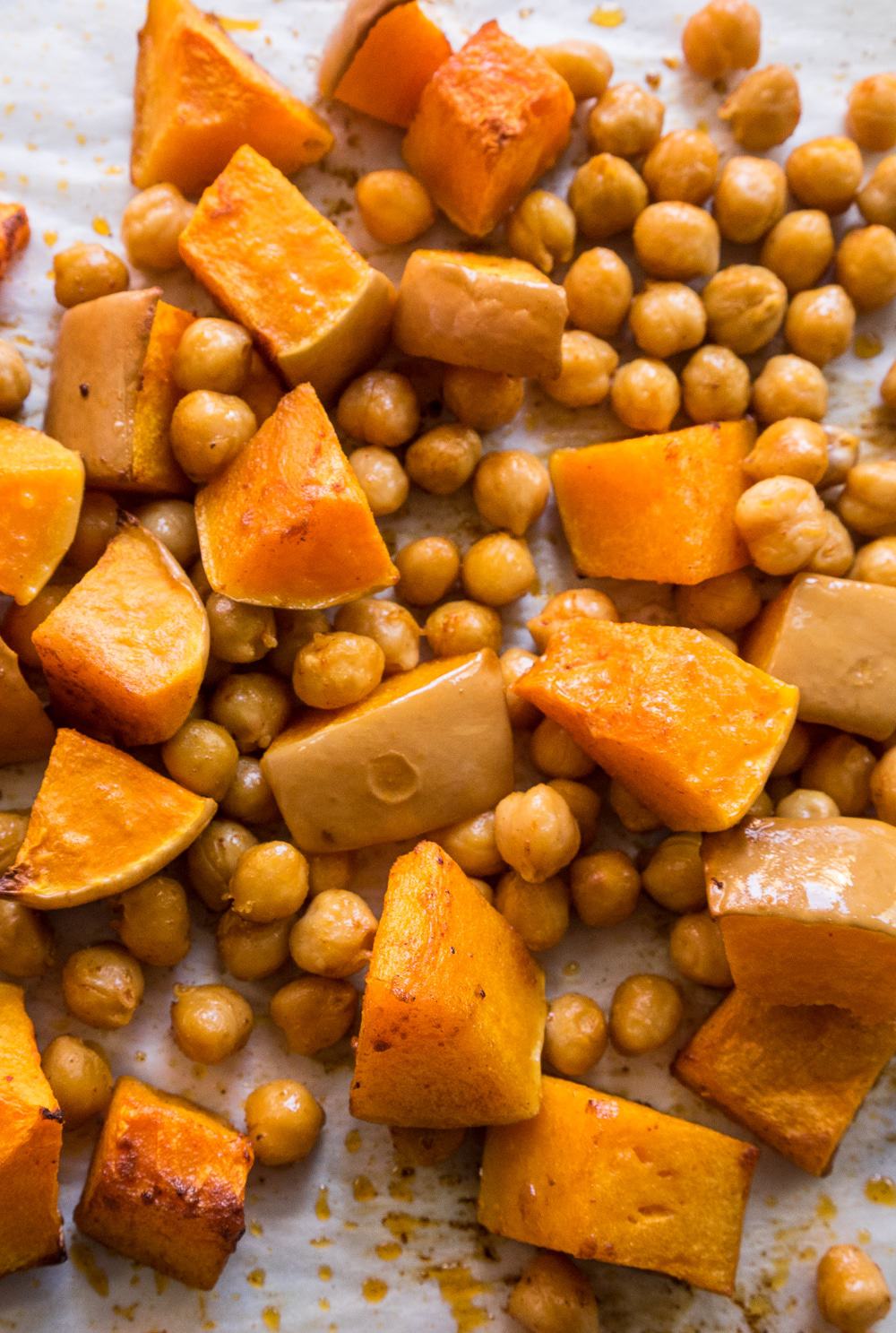 This roasted butternut squash salad is so quick and easy to make, you can prep everything while the butternut squash is roasting, and in 30 minutes you'll have an amazing healthy lunch or dinner!
I hope you will enjoy this yummy salad!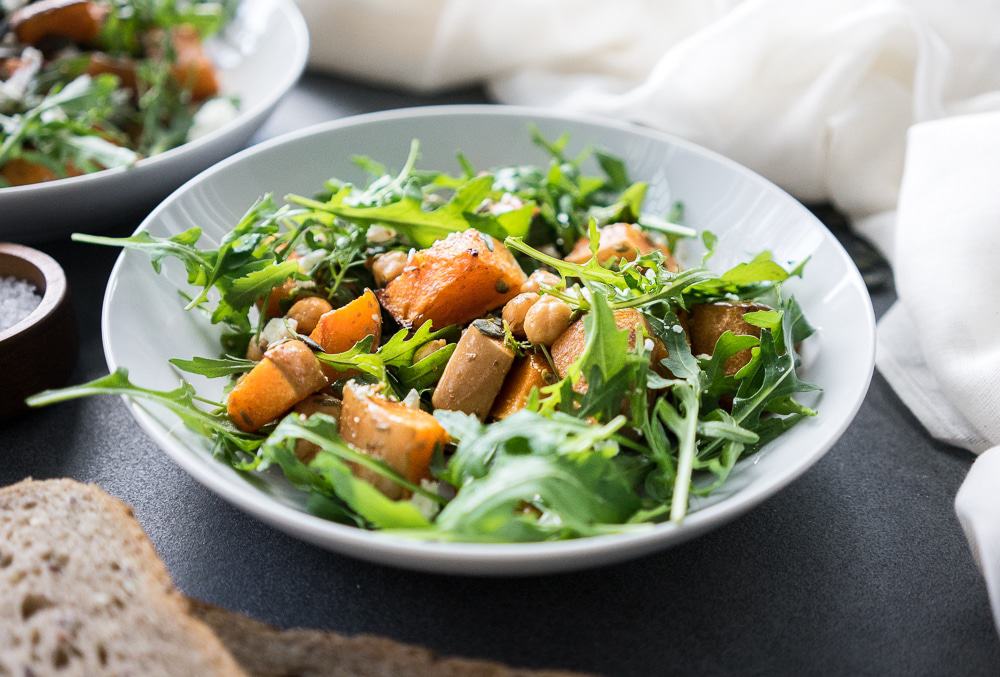 The Ultimate Roasted Butternut Squash Salad
A warming and filling salad to die for! This colourful and delicious warm roasted butternut squash salad makes you feel fantastic, but tastes amazing!
Author:
Sara @ Gathering Dreams
Ingredients
1 medium butternut squash
1 cup (165g) cooked chickpeas
A handful of wild rocket
½ teaspoon smoked paprika
1 tablespoon capers
1 tablespoon pumpkin seeds
3.5 oz (100g) feta, crumbled
A drizzle of extra virgin olive oil
A drizzle of balsamic vinegar
A pinch of sea salt
A pinch of black pepper
Directions
Preheat the oven to to 350°F (180°C). Cut the squash in half and scoop out the seeds, then cut into cubes. Toss the squash with olive oil, sprinkle with sea salt, smoked paprika, and add a pinch of black pepper. Place the squash on a baking sheet lined with parchment paper. After 10 minutes add the chickpeas. Roast until tender for 25-30 minutes.
While the squash and chickpeas are roasting, wash the rocket and finely chop the capers.
Once the squash and chickpeas have finished roasting, remove from the oven and let them cool for 10 minutes. Place in a bowl, add the rocket, the crumbled feta and the chopped capers.
Toss with a drizzle of extra virgin olive oil, balsamic vinegar, a pinch of salt and pumpkin seeds. Serve while still warm.
Follow us on PINTEREST for more delicious recipes!
ADD_THIS_TEXT