This article may contain links from our partners. We may receive a small commission if you make a purchase through a link. Please read our disclosure and how we make money.
IS IPSOS I-SAY WORTH JOINING? READ MY REAL REVIEW AND GET THE FULL DETAILS OF THE PROS, CONS AND HOW YOU CAN MAKE MONEY WITH IT!
Ipsos i-Say is one of the many free survey companies you can join to make some extra cash.
As there are hundreds of survey sites out there, you probably need a bit of help before you sign up with every free survey site you come across.
Don't worry!
I am here to do just that! I tried Ipsos i-Say for you and I am going to give you my detailed review below.
[wp-review]
What is Ipsos i-Say?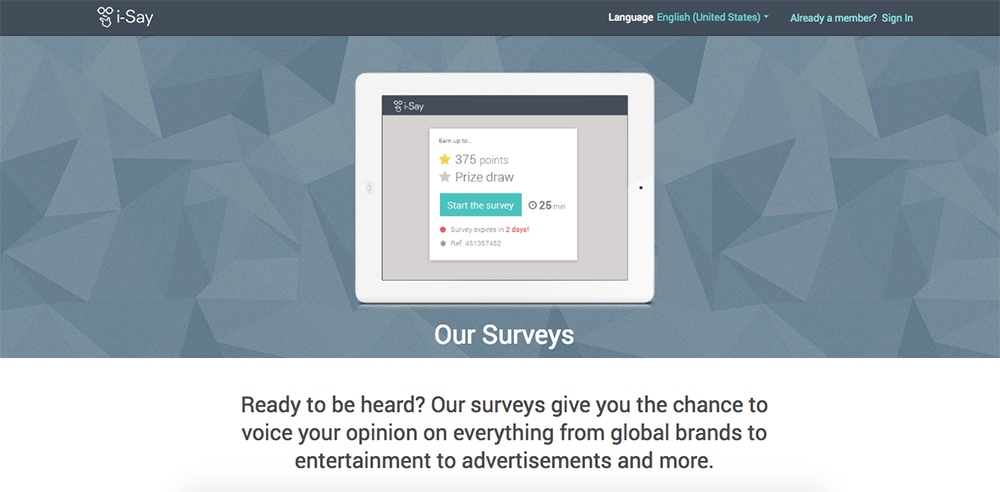 i-Say is powered by Ipsos, a leading global market research company. Ipsos is definitely a legit site, so if you are worried about this being a scam, you can rest assured your data will be safe.
Founded in 1975, with significant contributions to market research, Ipsos is the third largest survey-based research firm in the world with more than 15,000 employees in more than 80 countries worldwide.
It's one of the leaders in surveys, therefore you are in safe hands!
How Ipsos i-Say works
i-Say is the survey site of Ipsos: it's open to everyone over 18 from all over the world. Every country has its own i-Say site, and depending on where you live, the rewards you will get might be different.
You can join it completely free and immediately start taking surveys.
---
The sign-up process takes only a few minutes. You can log in using your email, or by linking your account with Facebook. At this point, i-Say will ask you some standard questions that will help them to pre-screen you for specific surveys, like your gender, date of birth, marital status, education, race, etc.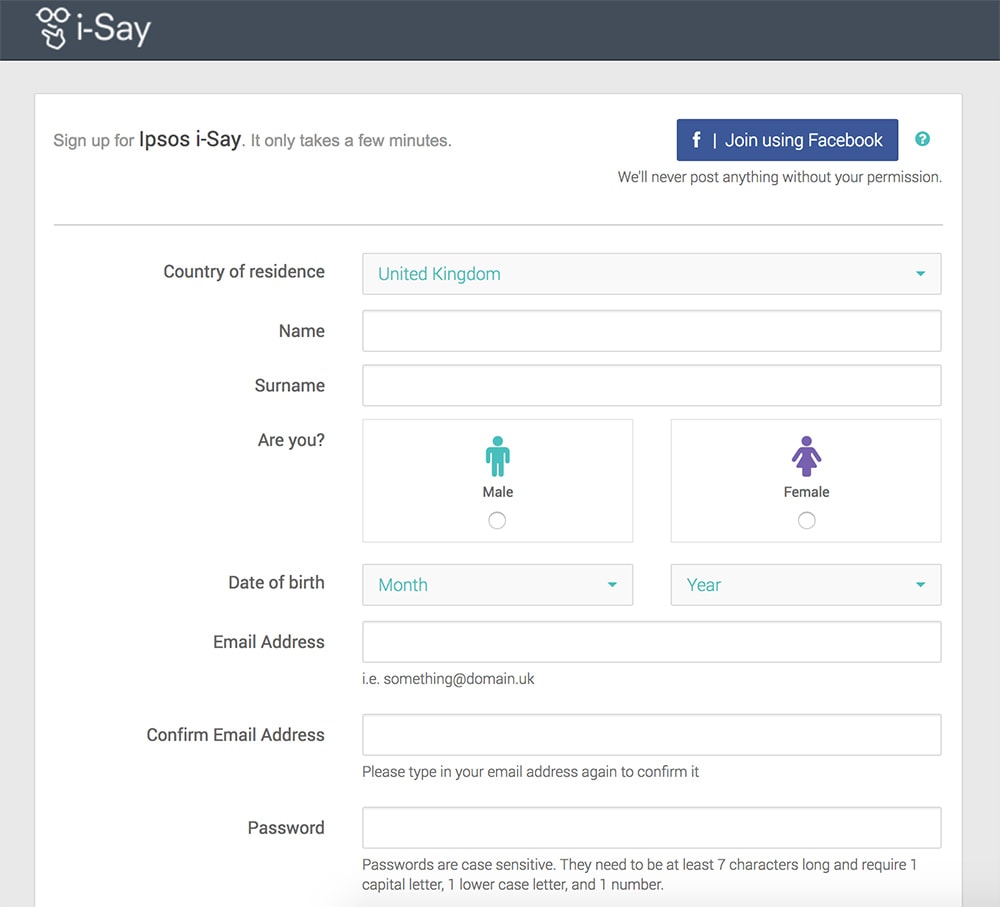 Ipsos i-Say will also require you to confirm your subscription via email: make sure you check your emails and click on the "Confirm Registration" button.
Once you have confirmed your registration, you are ready to take your first survey!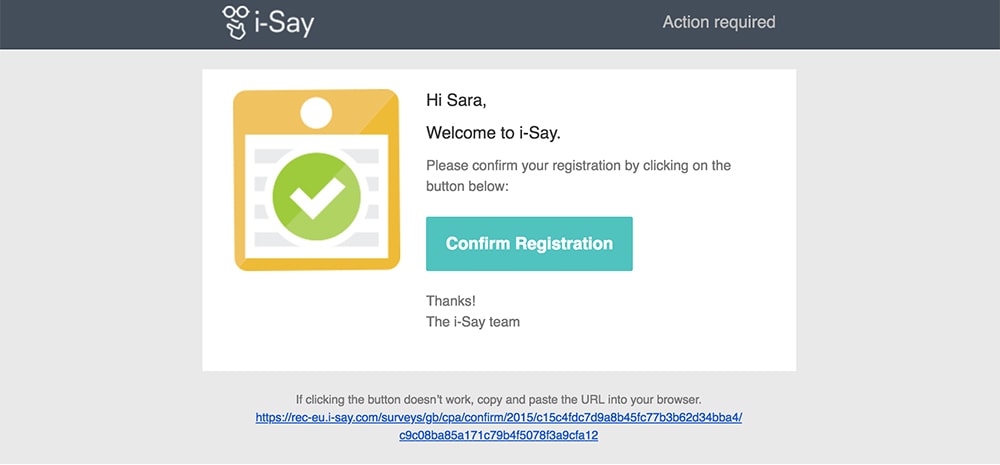 The first survey is a pre-qualification one called the "Getting to know You Survey".
It's a simple survey that asks you to answer questions on your demographic information, like employment and level of interest in surveys. It'll only take 5 minutes to fill and it's a way for i-Say to understand you and helps them put you into the right panels.
How to earn points on Ipsos i-Say
If you want to earn points and make money with i-Say, you need to take surveys!
Unlike other sites like Swagbucks, where you can also earn points by playing games, surfing the web and by doing shopping, the only way to make money on i-Say is to respond to survey questions.
After you sign up and confirm, you will start to receive survey invitations in your inbox, like this.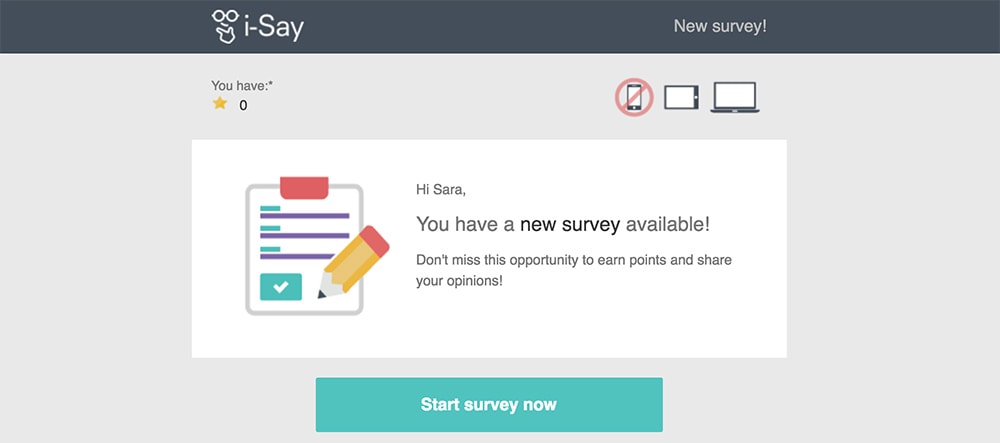 Or you can also log in and check if there are any qualifying surveys.
Depending on your background, you'll receive more or fewer invitations. This is the biggest con of Ipsos i-Say: if your profile is not what i-Say is looking for, you might receive as little as one survey per month!
If your profile fits with what they are looking for, you might get lucky and get up to 6-8 surveys per month!
The more surveys you take, the more i-Say points you receive.
How to make money on Ipsos i-Say
Like with all surveys, Ipsos i-Say won't make you a millionaire! It's a great way to pass your time and to earn a few extra dollars for free gift cards or cash, but you won't get rich by doing surveys!
When you receive an email about a new survey, you can earn points by responding to the qualifying questions. If you don't qualify, you'll get 5 or 10 points for participating. If you qualify for a survey, you will earn anything between 45 and 250 points.
This means you will need to take between 4 to 12 surveys to get a $5 Starbucks gift card!
If you want to earn some real money on the side, you should look at ways to start your own business or earn some extra cash during your spare time.
Ipsos i-Say rewards and how to redeem them
i-Say uses a point system and pays using rewards.
For a typical reward, you'll need 100 points to earn $1. If you want to withdraw cash with PayPal, it'll cost you a few more points.
The type of rewards will be different in every country. In the US and Canada you will be able to get:
Amazon eGift cards
Starbucks gift cards
iTunes gift cards
Visa Prepaid Cards
Paypal Funds
e-Discount Cards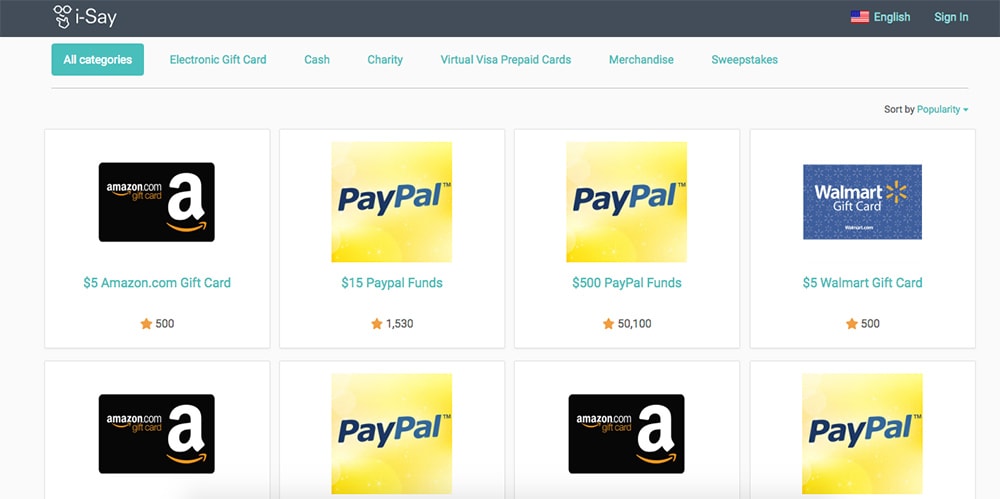 I also really like that you can use your points for charity donations like Heart Disease Foundation, Trees for the Future, Big Brothers and Sisters, Unicef, Red Cross and more. It's a great way to give back to the community by spending some of your time answering questions!
You will need to collect at least 500 points to be able to redeem them. Amazon gift cards, Starbucks gift cards, and other rewards are delivered within 24 hours via email, while other rewards like PayPal funds will be delivered within 3-4 weeks. This is a pretty typical timing for survey sites.
Make sure you use the same email as your PayPal address to sign up to i-Say, as they will only send you funds to the same email address.
How to redeem points for cash
i-Say uses PayPal to allow members to redeem their points for cash. If you want to get cash, you'll need a minimum of 1,530 points to redeem $15.
To give you an idea, here are how points translate to dollars:
1,530 Points = $15 PayPal funds
2,550 Points = $25 PayPal funds
50,100 Points = $500 PayPal funds
10,200 Points = $100 PayPal funds
102,000 Points = $1,000 PayPal funds
Do i-Say points ever expire?
I read some negative reviews from people mentioning that when they logged in to their Ipsos i-Say account, their point disappeared. You need to remember that you have to keep your account active by logging in and taking part to surveys.
If you don't respond to survey invitations for a while, your account will be considered inactive and after 45 days, your points account will be closed and any unused points will be removed.
i-Say's loyalty program
i-Say offers a loyalty program that will reward you based on the number of surveys you take. The more surveys you participate in, the higher the bonuses you will get (up to 600 loyalty points in a year).
| N of Surveys | Bonus Loyalty Points |
| --- | --- |
| 5 | 25 |
| 10 | 50 |
| 25 | 100 |
| 50 | 200 |
| 75 | 250 |
| 100 | 300 |
| 125 | 400 |
| 150 | 500 |
| 200 | 600 |
The loyalty program runs from January 1 to December 31 every year and the number of surveys taken does not carry over, but the loyalty points you earn will not expire, as long as you remain an active member of the i-Say community.
i-Say Cons
The biggest con of i-Say is that you might not receive a lot of invites.
I personally receive at least 3 or 4 emails a week, but it seems hard to qualify for surveys. It's great to receive 10 points just for answering a few qualifying questions, but if you can't take many surveys a week, it'll be hard to make money.
Some users say that they receive up to 8-10 surveys a week, while others don't get an invite for weeks.
The only way to know if you are part of the lucky people that will receive several invites a week is to sign up and have a go!
i-Say Pros
I quite like the clean and easy to navigate interface, compared to a lot of other surveys site. For every survey you take, you'll know exactly how many points you will earn and roughly how long it will take you to complete (I found that I can normally complete the surveys in less time than they estimate).
I also like the different types of rewards you can get, compared to other survey companies. Not only you can get cash if you are patient enough to earn 1,530 points, but they have some great other options to chose from like Amazon, Starbucks, and Target to name a few!
And the amount you can earn is pretty good for a survey site.
It's also super easy to sign up. You just need to answer a few questions and confirm your email. After that, you'll be ready to start participating in surveys straight away!
And if you fancy doing surveys on the go, they also have a mobile app!
Is i-Say worth It?
Like with other survey sites, it will take time to make a few bucks!
It's also down to how lucky you are with qualifying for surveys. If you qualify for a lot of them, it won't take you much time to earn $15-$30. But if you are unlucky, you might just get the 5-10 points for answering the qualifying questions.
I managed to make 950 in a couple of weeks ($10 Amazon gift card here I come!) because I qualified for many surveys! You just have to keep an eye on your emails and log in as soon as you see a new survey.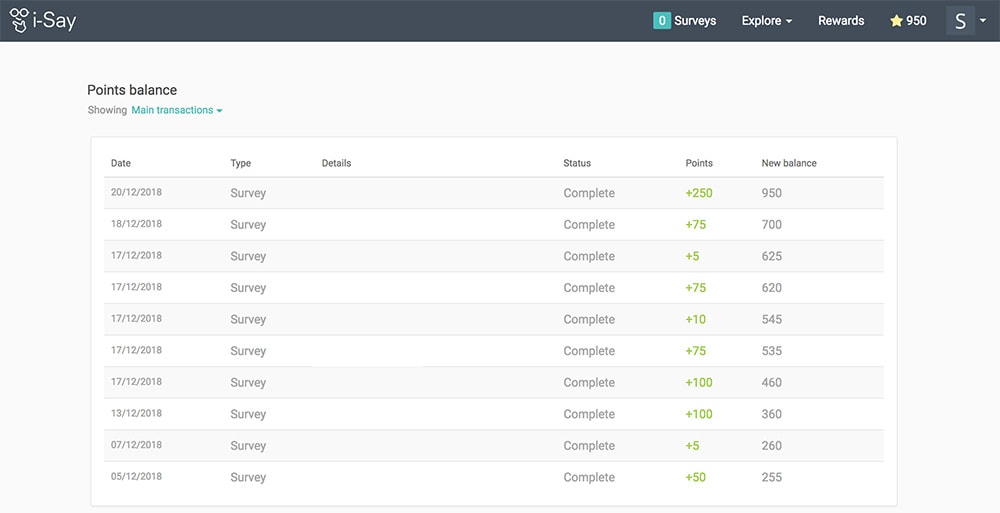 It's hard to predict how much money you will make.
The best thing you can do is to sign up and give it a go:
Click here to sign up from anywhere in the world.
You can then try to qualify for a few surveys and see how many you can take part in. Signing up is not going to cost you anything, and if you are part of the lucky ones you might get into some of the highest paying surveys straight away and earn some free cash.
Again, surveys won't make you rich, but they can be a fun way to pass time during your commute or in the evenings, or while you are queueing up for something!
Ready to make money with surveys?
Ipsos i-Say is just one of the many online survey sites to make money. I love taking short surveys, but I love even more online focus groups (you can earn over $150 for an hour of your time!).
---
CHECK OUT MY FAVORITE FOCUS GROUPS AND SURVEYS HERE:
---
If you are interested in starting your own blog, have a look at my step-by-step guide! I will show you everything you need to do to start a successful money-making blog!
---
Check out all the best resources for your blog! I find all these resources so valuable and I am sure they will help you as much as they helped me.