This post may contain affiliate links. Please read our disclosure for more info.
A BUCKET LIST SPOT IN THE HEART OF ITALY!
Cinque Terre is a unique paradise hidden between mountains and the Mediterranean Sea on the Northern coast of Italy. Its rocky and panoramic footpaths will leave you without words!
Cinque Terre means "Five Lands" and the beauty of these five villages hasn't gone unnoticed: thousands of tourists from all around the world come and visit every year.
UNESCO made it a World Heritage Site in 1997 due to the "harmonious interaction between people and nature". You can't blame them!
The wonderfully colourful houses reflect in the sparkling sea, surrounded by wild nature, vineyards and olive trees. It's a fantastic place, and it will remain in your memories.
1| Best time to visit
We visited Cinque Terre in June. The weather was perfect and the nature surrounding the mountains around the villages was in full bloom. Depending on what your plans are we suggest:
Mid-May to mid-September if moving around by train is your thing.
Mid-March to mid-October if you are planning on walking and hiking.
Either way, avoid August. This is THE holiday month in Italy and everything is busy and very expensive.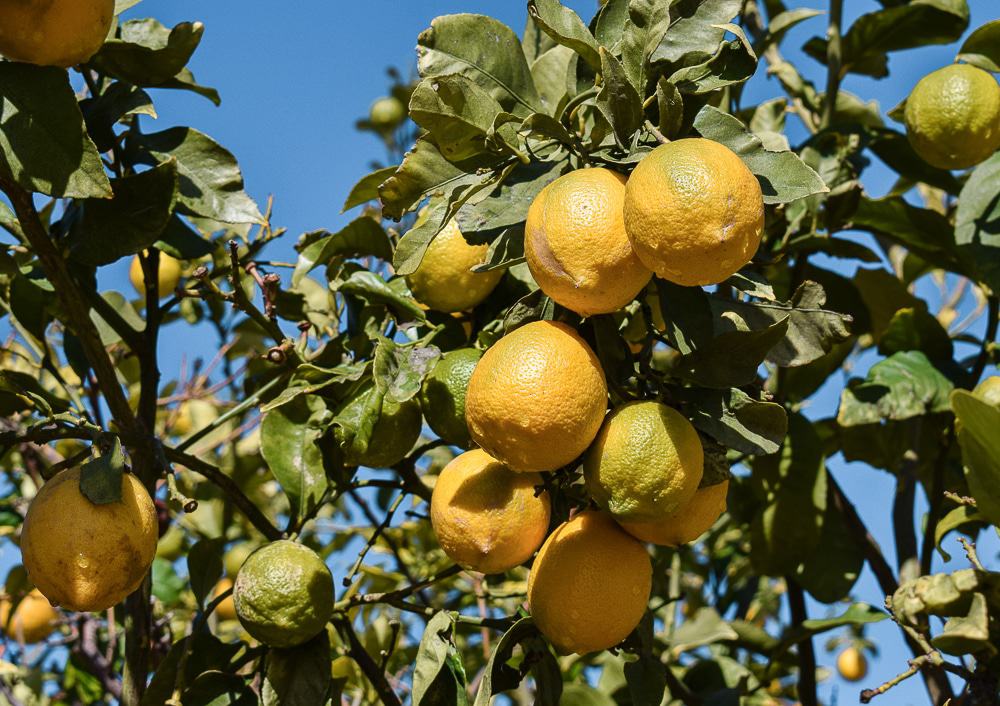 2| How to move around
By train
The most economical and simplest way to move around is by train.
You can leave your car in La Spezia and take a regional train to one of the villages in Cinque Terre. You can buy tickets at any train station. We suggest you buy the Cinque Terre Card which includes:
Use of ecological park buses
Access to all trekking paths
Wi-fi internet connection
Trains run along the coast and you will enjoy amazing views while travelling between the stations. It takes between 10 to 15 minutes to travel between villages.
By foot
If you are fit and healthy, this is definitely the most spectacular way to visit Cinque Terre.
Cinque Terre is, without question, one of the most romantic hiking regions in the world.
There are hundreds of trails around the mountains and you can take several routes. By following "Il Sentiero Azzurro" (Blue Trail) it will take you roughly 8-9 hours to visit all 5 villages.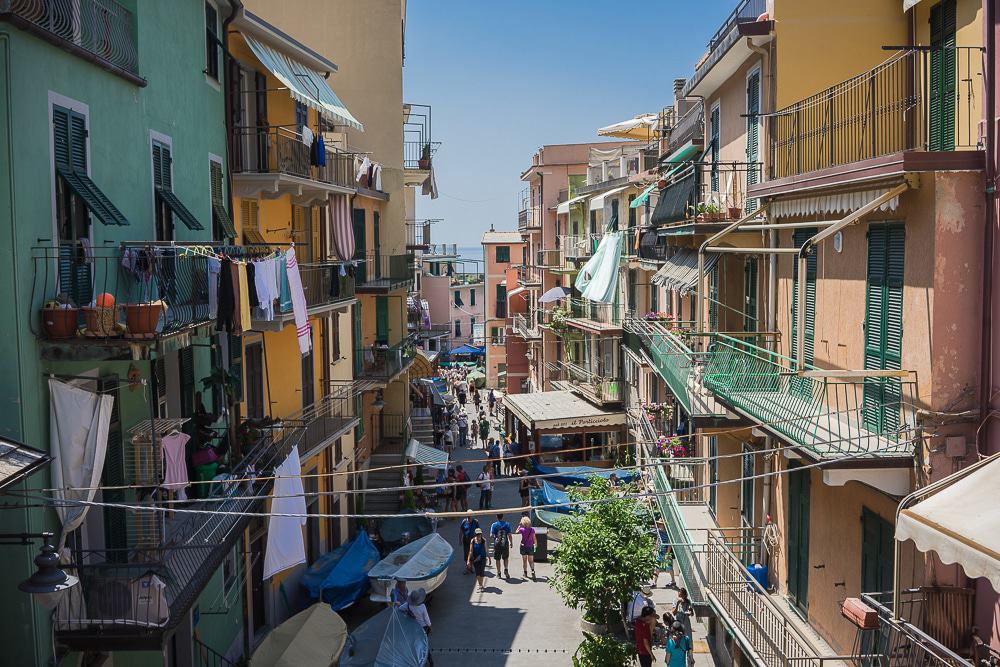 By ferry
This isn't by far the most convenient way to move around but it definitely gives you a unique and amazing perspective.
The ferry departure is located in La Spezia and it's only available in the spring and summer months when the weather is good. The ferry will stop in four of the five villages (Riomaggiore, Manarola, Vernazza and Monterosso).
3| How long to stay
You can visit Cinque Terre in a day, but we strongly suggest you spend at least a couple of nights there to enjoy the beautiful villages and panoramic views, not to mention the amazing food and wine!  You definitely need to spend more than 24 hours here to fully enjoy it!
4| What to eat
Where to start…first of all we are in Italy, therefore everything you do revolves around food.
And now let me explain to you how your typical day will look like: You wake up and eat some amazing pastries while drinking the creamiest cappuccino. You walk for a bit, start feeling the heat of the Italian sun and find yourself eating the most refreshing gelato. Then you walk a bit more, and you need to rest…while sitting in a restaurant by the sea, eating trofie col pesto. Pesto was born in this region of Italy; therefore, you will find it everywhere, and it'll be the freshest and most aromatic pesto you have ever had!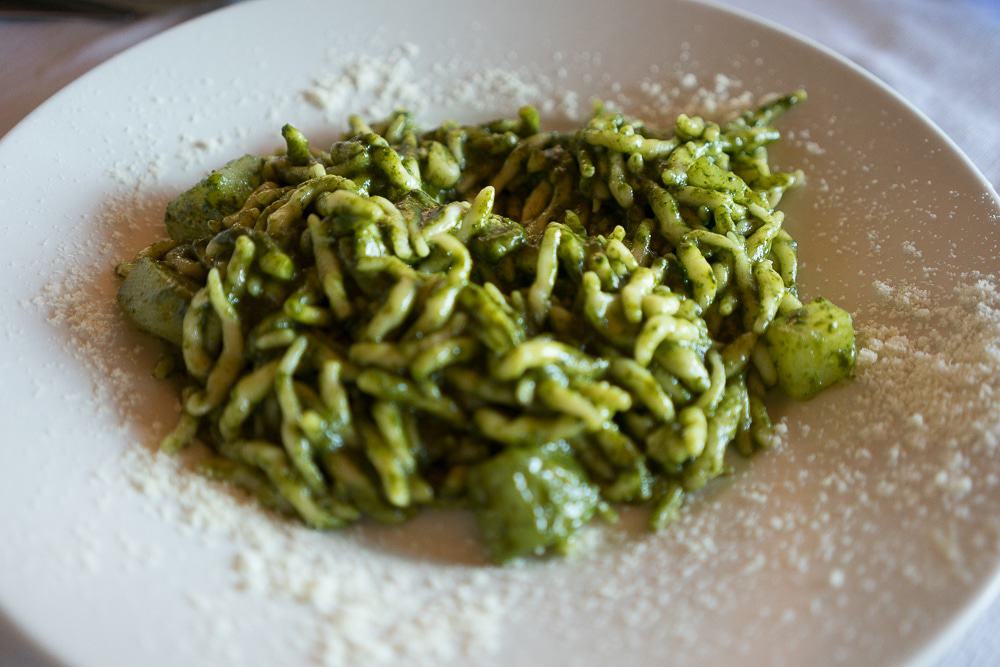 Then you walk a bit more and you feel the need for a snack (of course)! Here, focaccia comes to the rescue. Focaccia Genovese is one of the most famous focaccia in Italy and you have to try it! If you find yourself in Monterosso, try Il Fornaio di Monterosso. They have some tables outside and you can enjoy the sea view while eating one of the many focaccia they serve.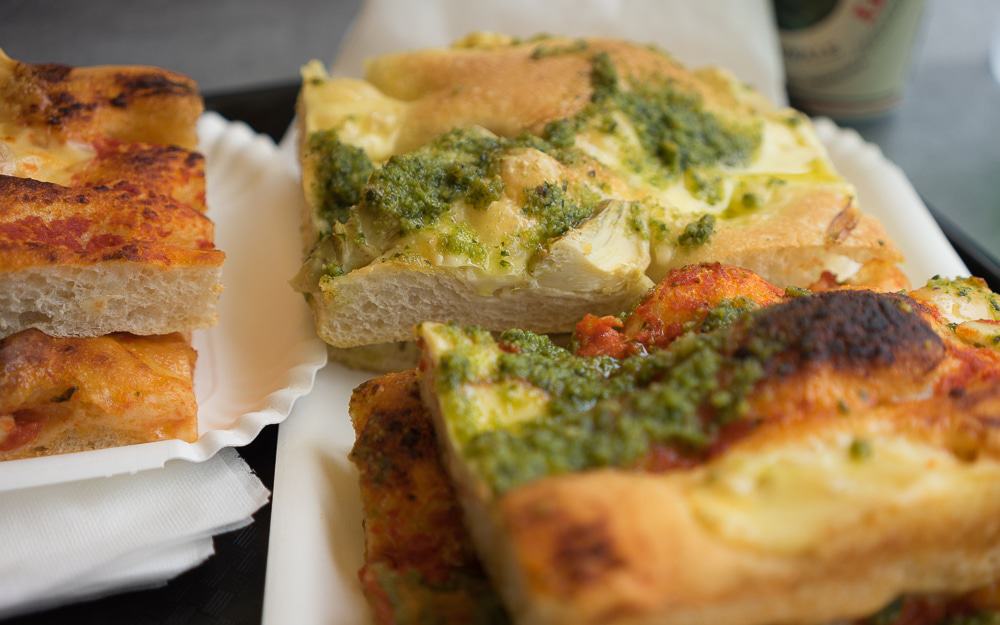 Then you walk a bit more, and you'll need another scrumptious ice cream! By the time you finish it, it's almost 7pm, which in Italy is aperitivo time! There is only one place in all Cinque Terre where you should have one and it's at Nessun Dorma in Manarola. From here, you can enjoy the most amazing view of the village, while drinking a spritz and eating mouth-watering bruschetta. You can even learn to make your own pesto here!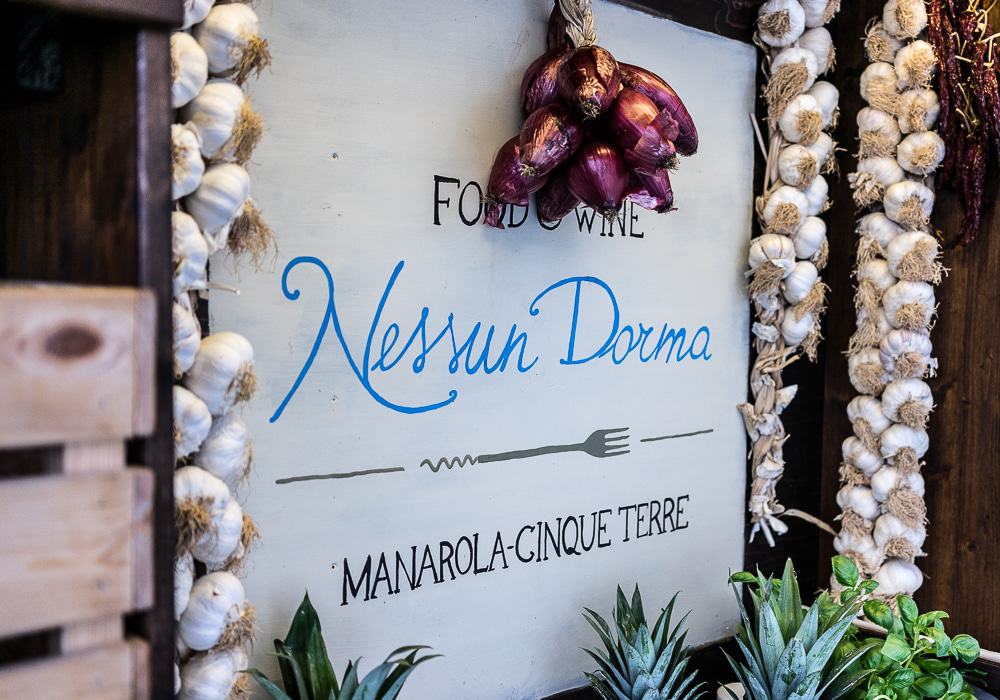 Once you have enjoyed the sunset, you can walk to the nearby Da Billy up in the village and have the most delicious fish you have had in a long long time! Seafood is a must in Cinque Terre – you can try it anywhere and you won't be disappointed!

Time to go to bed….
5| What to see
Riomaggiore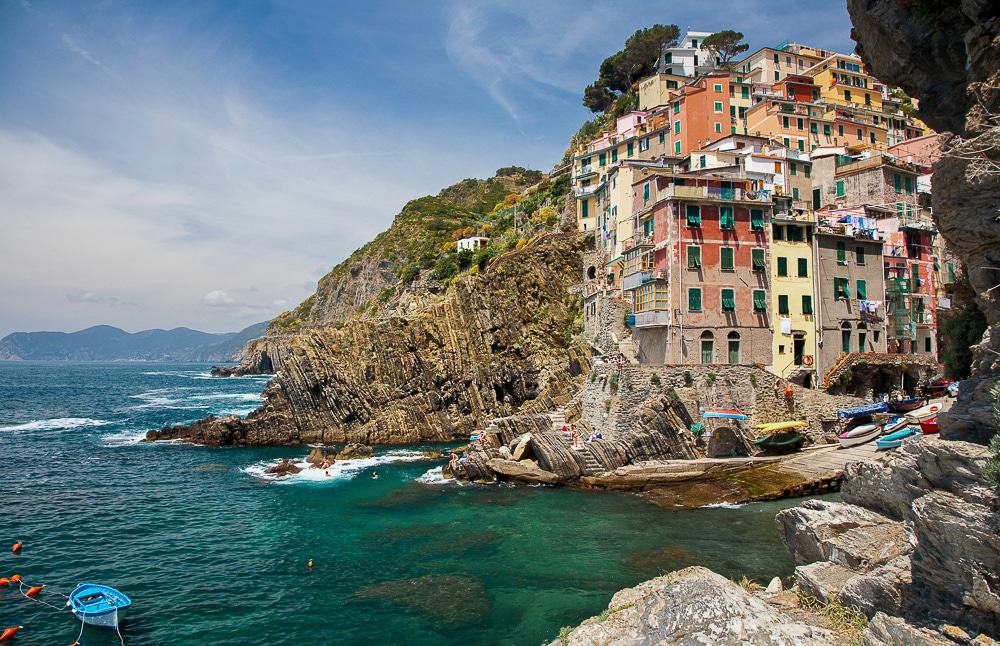 If you are coming by train from La Spezia, Riomaggiore will be your first stop.
Riomaggiore has very tall, colourful and narrow houses, and a gorgeous harbour and a rocky beach from which you can enjoy a wonderful sea view.  From here you can hop back on the train or take the famous "Via Dell'Amore" (Lovers' Walk), one of the most scenic footpaths to Manarola.
Manarola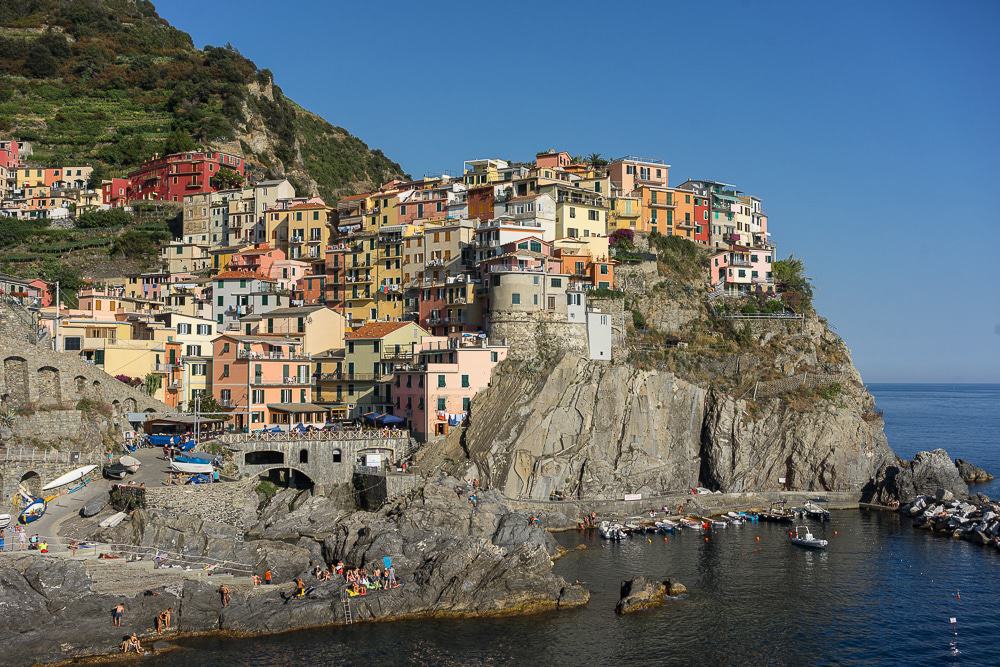 I have to say, Manarola is my favourite village! It's quite small but the beautiful colourful houses and the amazing view from the footpath next to the marina are simply breath-taking!
The village revolves around the main street and has a little harbour at the bottom. If you follow the path to the right of the harbour, you will get a chance to see one of the most photographed views of Cinque Terre.
Corniglia
This village is not accessible by sea, only by foot or train. It's by far the hardest village to reach as you'll need to climb 377 steps from the train station at the bottom of the hill. The staircase is made of bricks and locals call it "Lardarina". This means it's also the quietest of all villages. The view from here is breath-taking: you can admire the beautiful vineyards and orange groves growing all around the hills.
Vernazza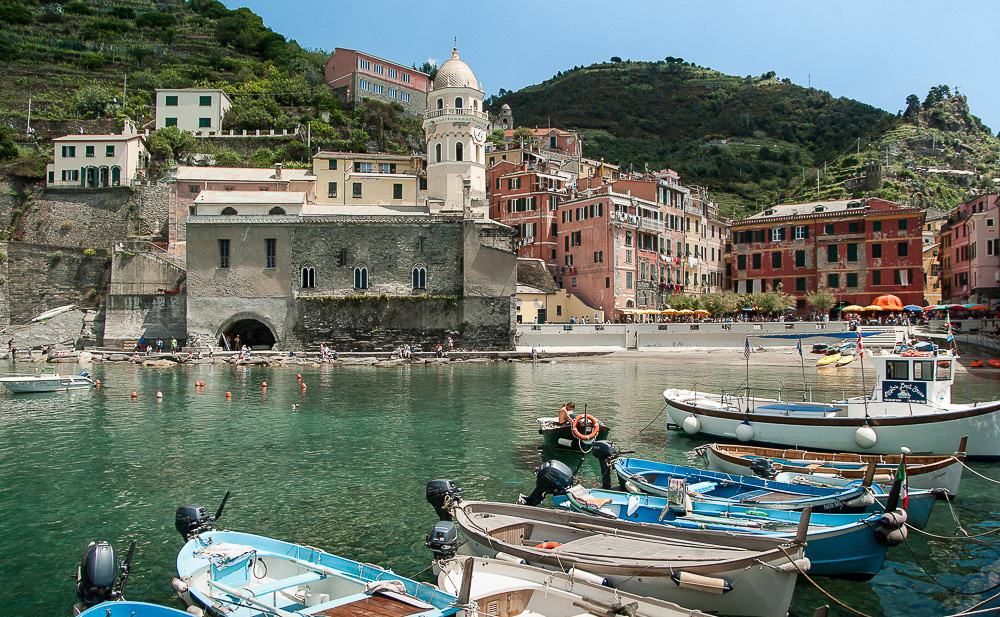 Vernazza is one of the prettiest villages but it was badly damaged by a flood in 2011, and you can still see some signs of it to this day.
There is a historic Castle, Doria Castle, on one side of the hills and plenty of shops and restaurants, focaccerie and gelaterie to please foodies from all around the world!
Monterosso Al Mare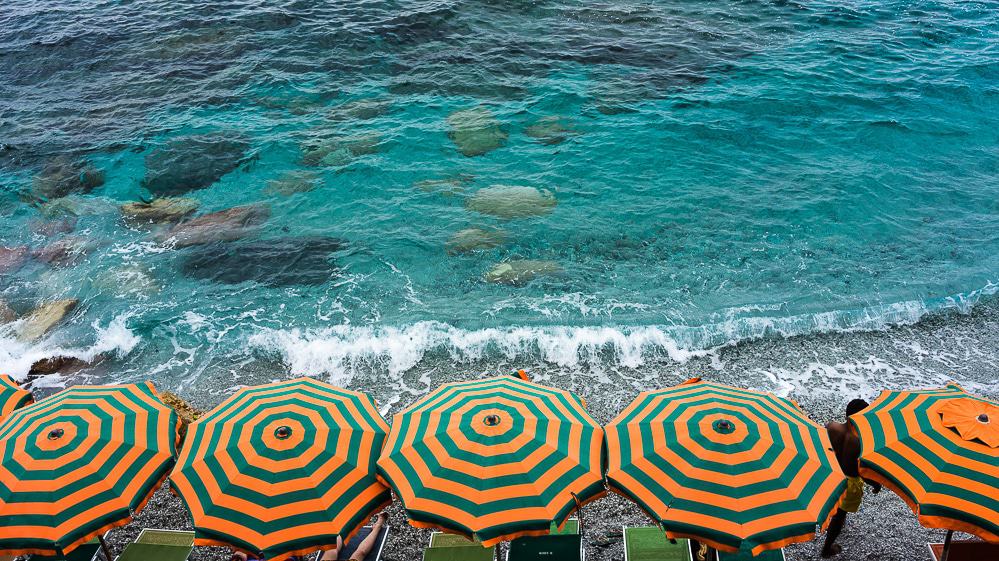 Monterosso is the biggest village in Cinque Terre. It stands on much flatter land than all its neighbours, and although at a first sight it might not look as charming as some of the other villages, it has a long coastline and a large beach.
If you want to spend some time chilling by the beach and don't like the idea of carrying your bags up and down hills and stairs, staying overnight in Monterosso might be the best choice.
We loved our holiday in Cinque Terre, and I really believe you'll have an amazing time too!
TRAVEL RESOURCES THAT I LOVE
Airbnb: There are so many reasons we love using Airbnb, but the main ones are these 2. It's much cheaper than booking a hotel and you can meet local people. Click here for a free $35 credit!
Booking.com: we use this website to compare prices with Airbnb. You can find amazing deals here.
World Nomads Travel Insurance: Travelling without insurance is a big risk. You could end up with bills worth $$$ if anything happens. Get the best travel insurance out there. World Nomads Travel Insurance is available to people from 140 countries and includes cover for overseas medical, evacuation, baggage and a range of adventure sports and activities!
Momondo: It helps us find cheap flights!
Skyscanner: It helps us find cheap flights! 
Follow us on PINTEREST for more incredible travel destinations!
ADD_THIS_TEXT